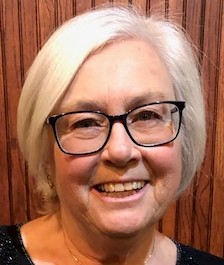 I would like to introduce you to Newcomers of the Southwest Suburbs. We are a social and civic organization open to those new to the area or those looking to widen their circle of friends. Our goal is to provide a friendly and welcoming atmosphere for all members.
We offer a variety of activities that include Golf, Card games, Bunco, Book Club, Needlework, Mah-jongg, Walking and more. We encourage members to learn new activities, so if you're interested in learning some new card games or need some guidance with needlework we have members that can support you. Of course, we also get together for dining out and happy hour to enjoy the great local restaurants. We have social events that are open for spouses and significant others. And we participate in some fundraising activities to support the community through our Charitable Giving group. Take a look at the website to learn more and find out what we offer and what may interest you. 
I joined Newcomers in 2019 after moving to Eden Prairie and retiring the year before. I found I needed an outlet to socialize and meet new people. I was introduced to Newcomers while golfing with one of the members, and it sounded like a perfect fit. I went to the Triple C Coffee meeting (Connection, Conversation, Crew) and met several of the members. We had a good time sharing and some of us went for lunch afterwards.   
Our group is friendly and flexible. You can join in as many activities as you would like. Some of us decide one activity is adequate to meet our needs, others join in several activities. Many of our members are gone over the winter and they participate when they return. We distribute a calendar of activities monthly through email (see an example on this website). 
I hope you will find us a group you would like to join. If you can't go to the Coffee Meeting you can also contact our Prospective Membership Chair, Janis Anderson or call her at (763) 443-3456. If you'd like to try out one of our activities, you're welcome to attend 2 activities before deciding if membership is right for you.  
Call or email me with questions – Looking forward to meeting you!!
Karen Koppy,
President
952-476-0114